TigerToons NFTs
"Thank You Gifts for You on My Birthday"
Tuesday, June 7, 2022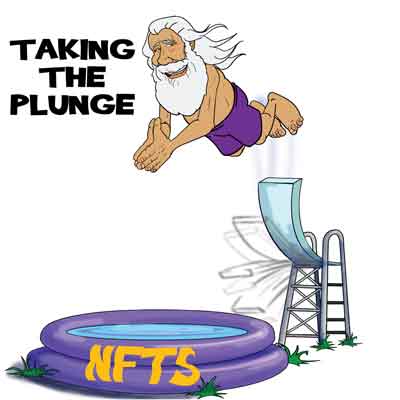 First, Thank You's
In January 2022, my friend, Randy Wesley, introduced the idea of offering my digital art from TigerToons in the form of non-fungible tokens (NFTs). I became intrigued and curious. Randy guided me for a few weeks by offering me his research. He directed me to articles, videos, websites and other sources of information. I began gobbling up anything I could. I moved from an acquaintance with NFTs to a familiarity with the concept. Within a couple of months, the block-chain lost some of its mystery. I came to realize that this form of digital asset creation and distribution might serve my purposes. I must begin by thanking Randy for his encouragement and support.
I selected my birthday to announce that I am pursuing a TigerToons NFT project. I hope this project will be a gift for many of you. The anniversary of the day I was gifted with life is the perfect day to announce this effort.
I have enjoyed this gift of life. I have always tried to discover my gifts, develop them, and share them with others. In my philosophy, this is the highest purpose of my life. I am satisfied I have done a pretty decent job of sharing my gifts. I learned to be generous. I learned generosity pays its own rewards. So many people in my life have reciprocated with affirmation, appreciation and encouragement. These reciprocations fuel the fires I use to forge my creative efforts. Joy for me begins with creative activities and sharing the results. I thrive in this cycle. Many of you have fueled me for decades. Thank you.
Beyond just saying, "thank you," I want to make my thanks active and tangible. This NFT project may be a way for me to give you a "thank you gift." As I learned about NFTs, my mind imagined, shaped and solidified a larger mission, a greater purpose and a more powerful vision. My mission, purpose and vision needed to align well with my philosophy. I am satisfied if I guide my actions by these personal principles I will achieve my goals. Allow me to explain. Four elements drive my intentions. They are legacy, value, education, and the future.
Legacy
My legacy is a personal consideration. We could not have children. We decided not to adopt. Instead, we made decisions to make our time, talent and treasure available to our families: our parents, siblings, and nieces and nephews. We do not regret anything. As time passed, we gratefully filled our roles to our families.
In recent years, we have turned our thoughts to estate planning and what we will leave for generations after us. Without children, our plans look unique given our circumstances.
The archives and creations that reside in the thing called TigerToons present interesting questions. What will happen when Tom is no longer capable of managing TigerToons? What will happen when Tom is gone? What about Tom's other artwork beyond TigerToons?
Interesting possibilities have emerged. I have someone in mind I trust and has my interests in their heart. Beyond this, NFTs offer an alternative to spread my legacy to a broader community and a niche market. By distributing these digital assets to a group of people who can appreciate and find uses for my work allows me to extend my creativity beyond my life.
NFTs would unleash my artwork from hard drives where it could all disappear. I don't predict this, but my art will become rare as time passes. NFTs would allow those interested to own pieces of my digital life.
Value
Generating income and accumulating wealth using my talents has never been an ambition. I value my creations. I know they are worth something. I know others would pay money for my output. As a realist, I felt my creative work was never going to be as lucrative as my education and experiences. I have other talents and skills to make a living.
Running an art business or serving as an employed graphic artist didn't appeal to me. I like doing what I like when I like it. I am not attracted to directives and deadlines. Commission art opportunities came my way sometimes, but even those did not thrill me. I value my creative freedom more than I value the money. It has never been a sacrifice to me. To chase a dollar meant giving up some of my joy. When it is said, "do what you love," the unspoken words include, "but be prepared to compromise." I am not compromising my freedom.
I married well. My sweet wife, Kathleen, understands me well and knows how my ego works. She supports my work and loves my creativity. In addition, our financial priorities run in the same direction. We enjoy some comfort, but not so much as to break our necks reaching for the next dollar. In many ways she is my patron and my muse. TigerToons would not have happened without her. She has added value to my work by the compromises she's allowed me to make. That's a precious gift. I am grateful beyond words.
All of this means I have been able to readily and easily share my work with my audiences with no admission price. In effect, I can transfer the inherent value of my talent, my heart, my mind, and my humor with others. As I mentioned, I receive affirmation, appreciation and encouragement in return. That's a brand of love upon which I thrive.
I intend to offer NFTs at very low prices initially. As I see it, I have already been paid by the joy I received sharing them. I have earned the value I wanted. I can feed the cycle by allowing you to own something of mine that may grow in value. I can reap benefits in the resale market. As owners of NFTs realize value by selling or trading NFTs with others, I can receive royalties on future transactions.
This can be a true win-win situation with minimal risk. At least I think so. At least I hope so.
Education
I hope I fulfill my intentions. I am not an expert at this NFT-Block-chain world. I understand the concept, but much remains mysterious. I have searched high and low amongst my friends and colleagues for someone who knows this market well. I have not found a true expert. I have approached strangers who claim expertise and asked questions that have stumped them. This is an endeavor that is evolving before our eyes. I feel comfortable that the volatility will level out, the learning curves will quicken, and the mystery will dissipate. A whole generation has embraced NFTs. Just as grandparents turn to their progeny to teach them how to use smart TV features, I am hunting for more sources of information from a generation better acquainted with that world.
I am a life-long learner. I believe in increasing my knowledge base relentlessly. I am committed to a focus on this wonderful possibility. The built-in unknowns in this sort of activity will keep the faint-hearted out of the market. One aspect of the risk is the knowledge risk. If I were a person unwilling to learn, I would not do this. I don't know enough about commodities trading or day trading and I do not want to learn those things. Therefore, I stay far away from those investment route.
NFTs appear to have features, benefits and values which meet my assets and use my skills. I am driven to learn more and I will share my learning with anyone interested.
I am not afraid to make mistakes. I expect to make mistakes. All I have ever learned and tried to do has been sprinkled with mistakes. My artwork, for instance, is a series of mistakes and corrections, mistakes and corrections, until I reach the last correction or don't feel the need to fix the mistake. Pencil and paper are my essential tools. So is my eraser.
I don't intend making big mistakes. I want to allow little mistakes and then learn how to correct them. This is my education plan. This how I will learn. Consider learning with me.
The Future
The future is a fuzzy thing. However, we can prepare ourselves.
I worked for years in the field of anticipatory design, helping groups create plans and tap into their group genius for elegant solutions. My colleagues fondly suggest we can realize a "future by design, not default." While all plans are suspect and perhaps of little value, planning is always useful. Planning develops a mentality that promotes quick reactions and responses to shifting circumstances and changing situations.
We can't know the future. We can discern trends and threads in the environment. The digital world surrounds us. It permeates all we do. We will cripple ourselves by denying the tools this digital realm gives us. I will not waste words listing the evidence of this reality. You recognize it all.
I do not have as many days in front as I have had behind me. I will not waste those days gifted to me. For me, I will carefully embrace the digital world. This fuzzy future may threaten some. Others may not see opportunities. Hanging on by one's fingernails may work. Holding tightly to the past may be comfortable. These are worthy ways to approach the days ahead. Our resources need to be protected and preserved. This NFT adventure is not recommended for everyone.
For me, I want to prepare my work to meet the future. I see this future through a dirty window. It isn't clear. I don't know what is out there. I do know I want to reach beyond my life. I want to give value to generations I will never know. I want them to give a little joy from my efforts.
What's Next
I have reviewed my archives and begun assembling possible digital asset collections to offer. There are many ways I can tap my archives. The archives total in the thousands of unique images, gifs, and movies. Since I am not driven to build a huge market, make tons of money, or turn this into a business, I can move fast. I am shooting for the first offering by the end of this month.
I will keep you informed.