Another Santa in the Building on May 4th
by Tom Sylvest, Jr.
May 7, 2023
Our final morning in Ireland arrived. It became a very entertaining day for me. Read on and be patient.
Once Kathleen woke and transitioned from her dream state to the realties of a long travel day, I slipped down to the coffee stand in the Clayton Hotel lobby. Every morning I try to procure a coffee with cream for my travel partner. In all of our travels, this small act of loving consideration sets the tone for each day on the road. I really look forward to this small spousal duty. Kathleen always appreciates it with sweet utterances.
On our trip to Ireland every place we stayed provided an electric kettle to heat water for instant coffee or tea. This arrangement mystified me at first, but I figured out how to operate this sort of contraption. We never saw an in-room one-cup keurig or 4-cup drip coffeemaker. The only offerings included only the instant coffee or tea option. After eleven mornings without our beloved Community coffee, we suffered from serious withdrawal symptoms. Thankfully, everywhere we stayed provided a source of "real" coffee. Most often we found the black gold associated with the ubiquitous Irish breakfast, whether buffet or served. Folks in Ireland call our sort of coffee, a good black elixir, Americano.
While getting the Americanos, I explored the breakfast arrangements at the Clayton Hotel. The buffet spread included scrambled eggs, fried eggs, home potatoes, mushrooms, stewed tomatoes, link sausage, white and black pudding, white bread toast, soda bread, fruits, juices, milk, and hot and cold cereals. I like a good breakfast, especially on the road. I heard that Irish breakfasts were legendary. I will only say that I found them sufficient. At the Clayton Hotel, the breakfast was "All You Could Eat." I intended to consume one of that magnitude.
I delivered the coffee to my bride and collected her sweet utterances. My duty completed, I returned to the breakfast restaurant. They seated me. I hit the buffet and loaded up on the proteins to fuel me for the tiring travel day ahead. I settled myself at my little table and dug in.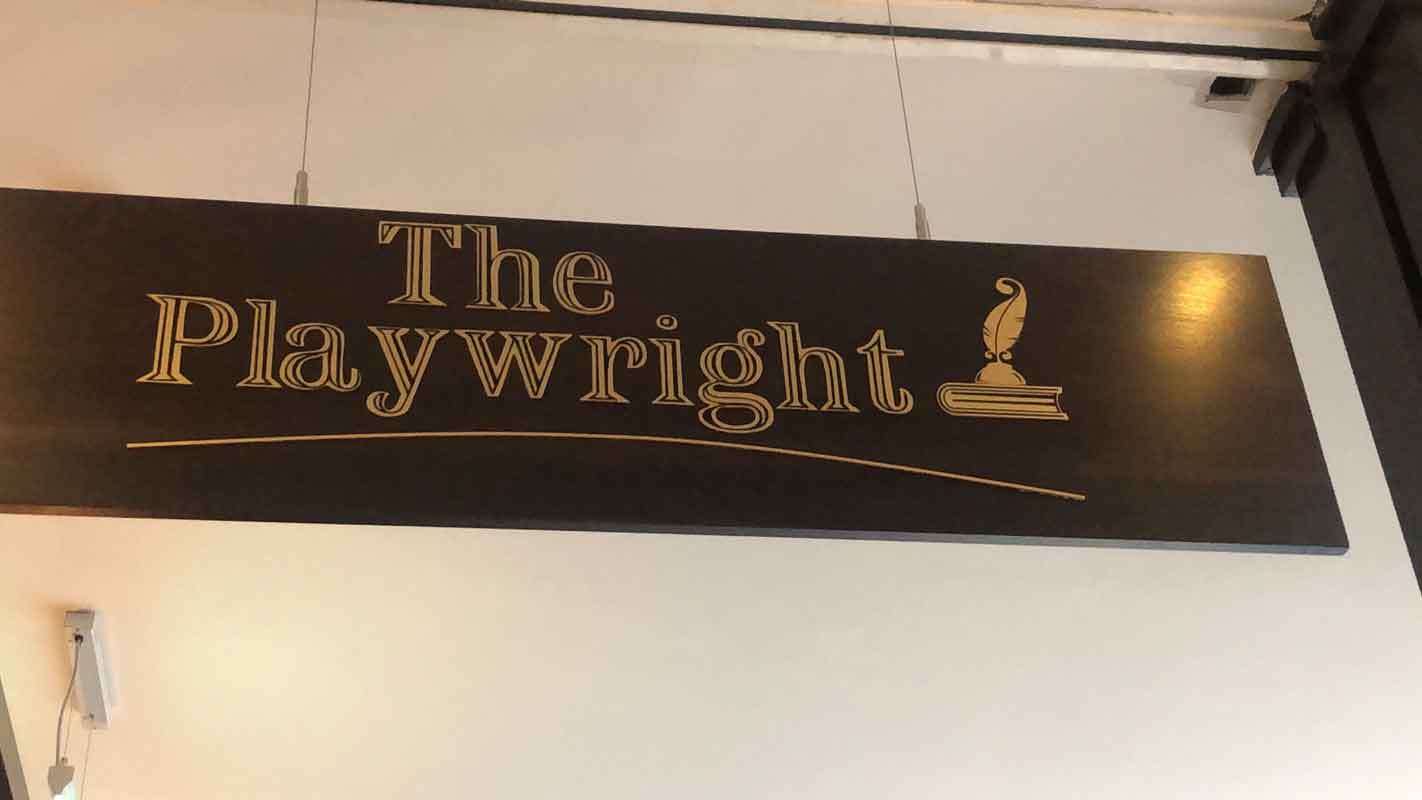 photo: The Playwright Sign
I love people watching at breakfast. This breakfast time was no different. The restaurant this morning was sprinkled with people I had spoken with the previous evening in the hotel bar, The Playwright. Many stopped by to say, "Hello," and talk a bit while my meal cooled. That's a downside to possessing a gregarious personality, cold eggs, meats and potatoes.
I exchanged pleasantries with two Irish women, Shelley and Siobahn, who bought me a couple of pints the night before. They had asked me if I was enjoying my trip to Ireland.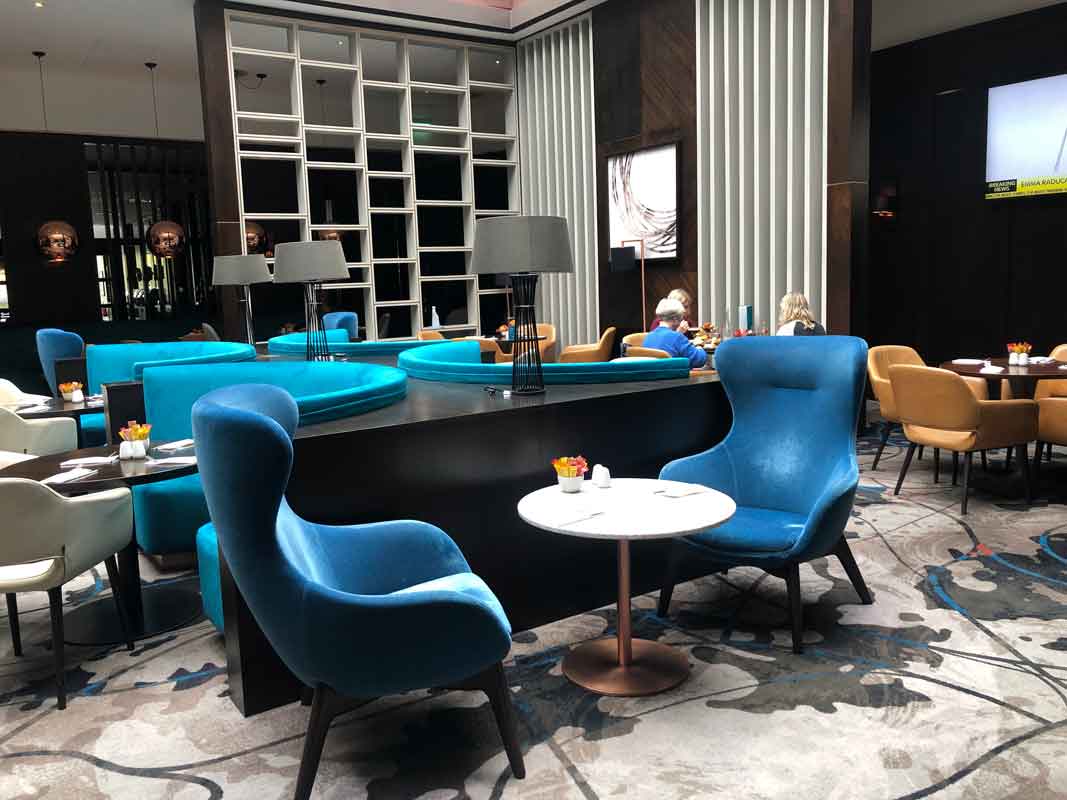 photo: The Playwright Seating Area
I surprised them by saying in an exaggerated disappointed manner, "Absolutely not. Red is my favorite color and your island stinks with green. Red is on the other side of the color wheel and would provide an attractive contrast to all of these verdant hues. I know. I'm an artist. I'm sick of the forty shades of green everywhere I look. It reminds me of the pea green soup Linda Blair hurled in The Exorcist. You people should be more colorful. With a little effort you could attract more people who like other colors."
"And Lord Almighty, what's up with every Irish person asking me and my wife if we are enjoying our visit and having a good time? Do you people have a self-esteem issue? Seems like the Irish are compelled to fish for compliments."
Shelley and her friend had a good laugh, visited for quite a bit and bought me two pints. It was nice to see them again and tell them goodbye.
My breakfast was colder.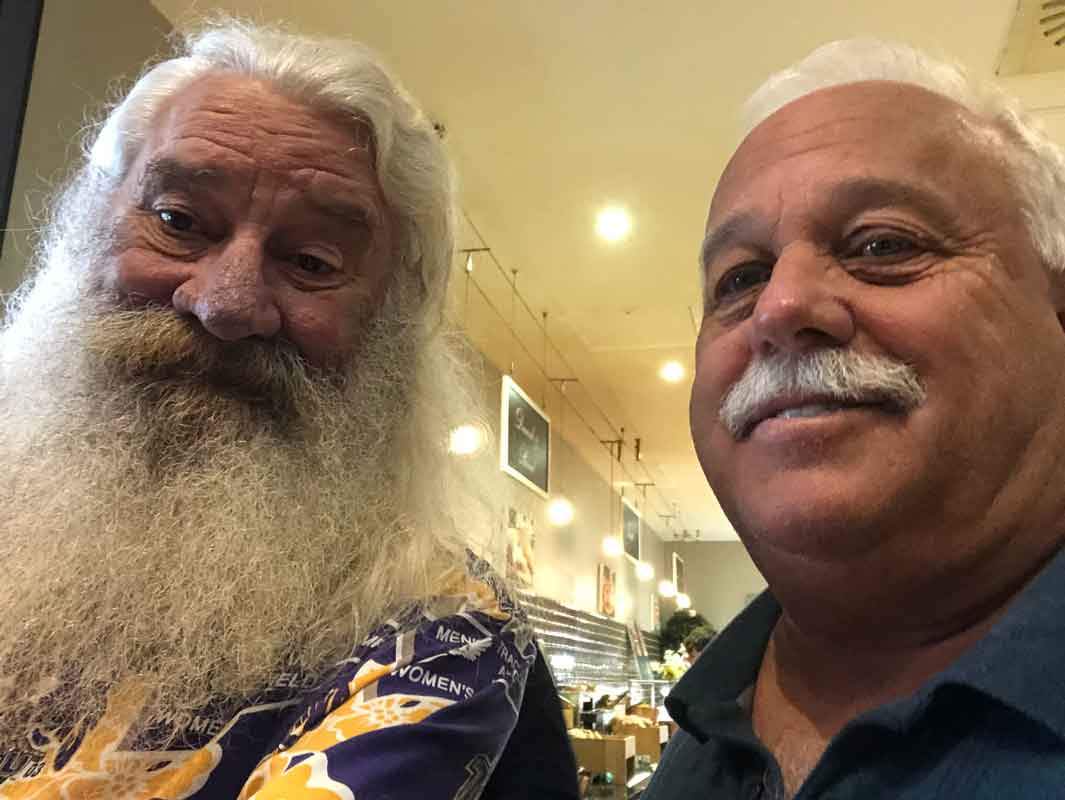 photo: I and Pat Quigley
I also saw a fellow who I visited with the evening before named, Patrick Quigley. How Irish is that? Well, he is from upstate New York, just south of West Point. We started off talking about Paul Dietzel and the Army-LSU connections. I told him the Black Knights were coming to LSU Stadium this season. Those topics fueled our conversation.
Patrick had moved to Ireland twenty-plus years ago. He is settled in Galway now. I forget his occupation because the bulk of our interaction revolved around baseball. Wearing my LSU regalia with LSU Baseball Championships and other championships on my tropical shirt started many conversations. Patrick and I talked about all kinds of baseball stuff. He absolutely loves baseball history and stories of the old days, the Ty Cobb years for instance. He encouraged me to search for the book, "Glory of Their Times." He wasn't certain of the title and couldn't remember the author's name. I assured him I would find the information.
I saw him in the breakfast line. I got up, approached him and told him I looked up the book. I told him I discovered that the author was Lawrence Ritter. He said thanks and that he enjoyed our visit the night before. I know I enjoyed it.
My breakfast needed a microwave, but I ate it as it was. It is my mouth that causes breakfast cooling, not the original heat of the meal.
Nearing the end of my meal, a tall guy passed in front of me accompanied by a lovely woman and a bald, red-bearded man, both in their forties I'd guess. The tall guy had long white hair and a long, bushy white beard and I would guess was in his sixties.
Since both of us sported similar head locks and facial hair and could pass for versions of Saint Nick, I couldn't pass up making a comment at the risk of further sucking heat from my breakfast.
I said something like, "That Santa Clause Look-Alike contest last night was competitive. Did you get a trophy? I certainly didn't."
He laughed. His buddy said something to the effect, "You guys definitely have similar genes."
I offered him a comb over, but he declined.
I really don't recall specifically what we said to each other, but we were certainly amused and enjoyed the brief encounter. The three of them got their breakfasts and took their seats in the far corner of the restaurant.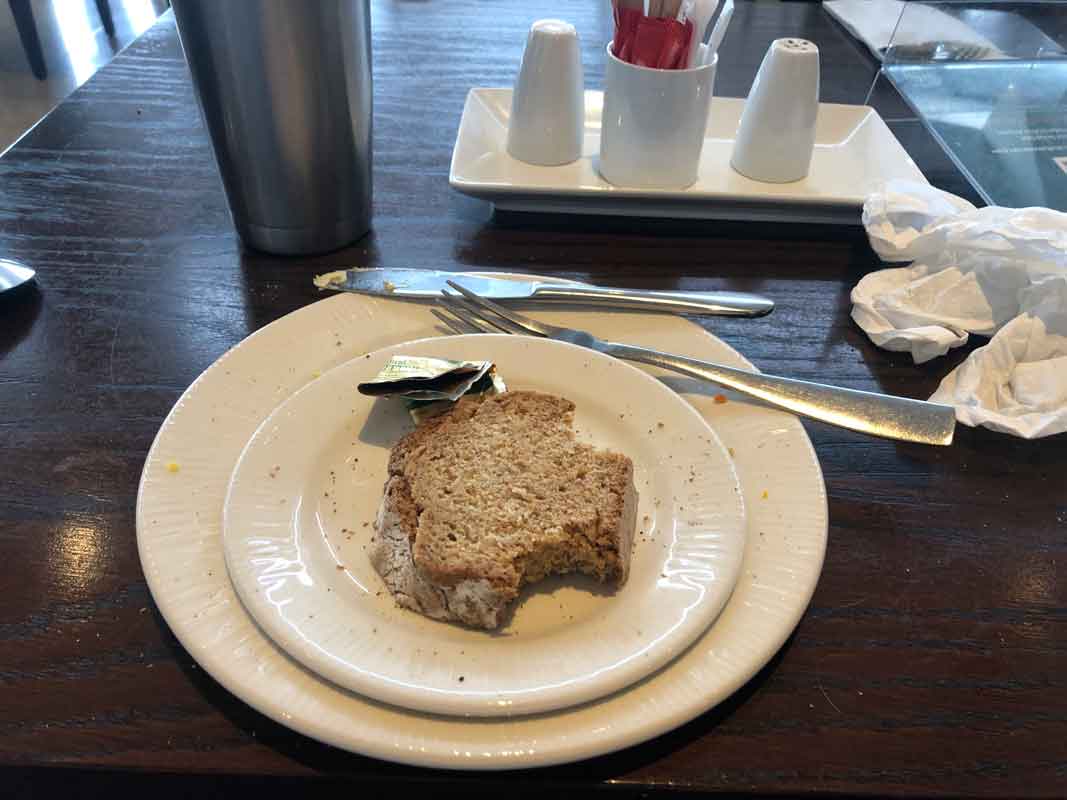 photo: End of Breakfast
I ate my chilled and buttered soda bread toast and finished my lukewarm coffee. I brushed the crumbs from my beard and got up from the table. I headed towards the exit then took a sharp turn to the right. I beelined it for the table where the other Santa Claus sat with his friends.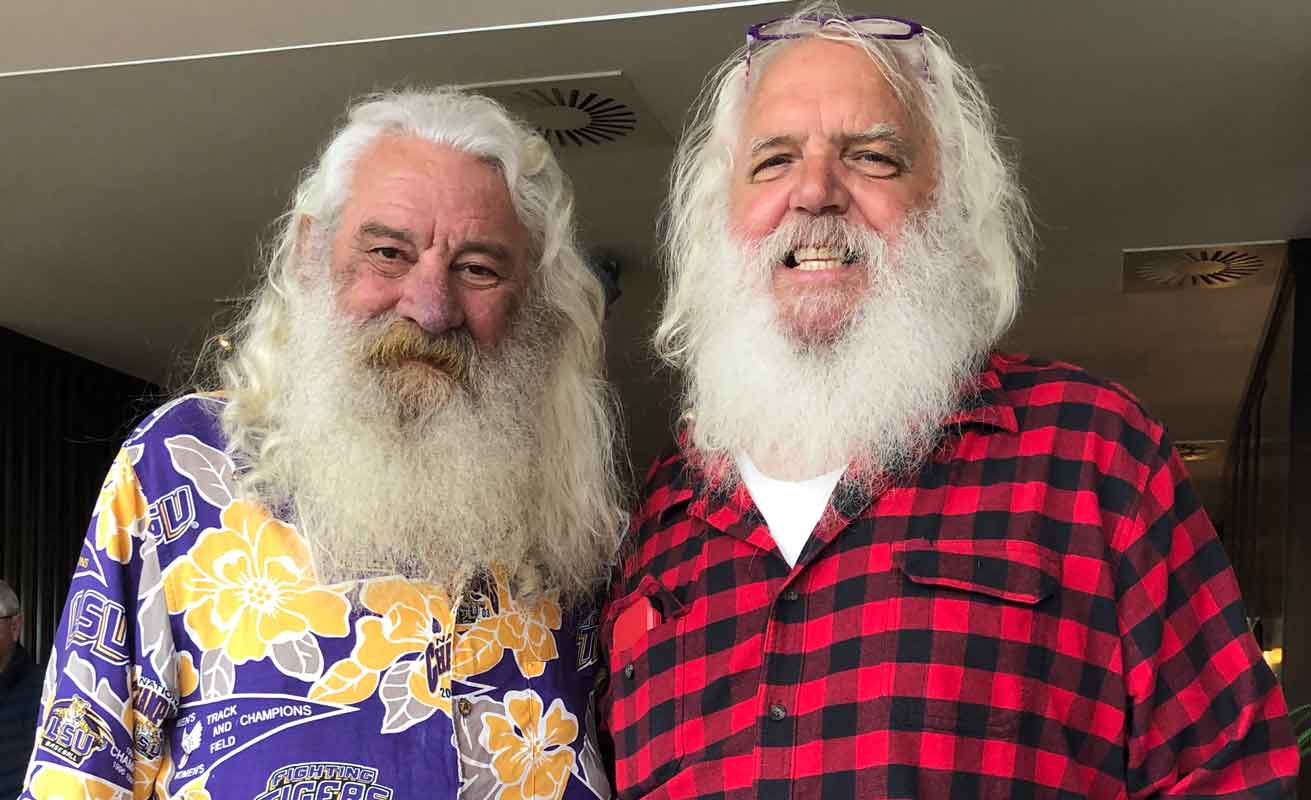 photo: Two Santas
They looked up and smiled as I approached. I reached the table and said, "I'm curious. What kind of hair products do you use to keep your hair so natural looking?"
They laughed.
I said, "I couldn't help myself. It's unusual to have two Santas on the same premises unless a jolly ole elf gathering has been convened."
With that we introduced ourselves. Santa Number Two was named Bill and the couple were Stacy and Jason. I discovered they were from Fresno, California. They came to Ireland to explore and visit some ancestral haunts in Killarney Town. Bill mentioned his "Christmas in Killarney" experience with some folks and I shared my encounter with a couple from Los Angeles along the same lines. If you look like Santa Claus, you must expect these things.
I asked Bill if he had ever tried the Gandalf gambit. He said no and showed some interest. I encouraged him to try it out. For less than two hundred bucks I told him he could get a wizard outfit and expand his repertoire.
I told him of an incident at the Cliffs of Moher. The story went like this:
As we walked away from one of the cliff overviews, we passed a group of Indian guys, probably in their thirties. One pointed to me and said, "Great beard."
"It's a Gandalf thing," I responded. They all laughed at that.
We moved along and then I yelled back over my shoulder, "And may the force be with you!"
They lost it. They completely cracked up and walked away giggling like a troop of Girl Scouts.
Bill, Stacy and Jason cracked up, too.
I said, "You should explore the opportunities."
We visited a few minutes more and enjoyed how our paths had intersected. I really liked these people.
I returned to our hotel room. I found Kathleen busily organizing the luggage contents. We planned to check her larger bag with items she identified as unworthy of a carry-on bag. As I resumed my packing chores, I shared my experience with the Fresno Santa and his elves. She expressed mild amusement while her packing commanded her attention. She has vast experience in listening to me babble on about something while she worked to concentrate on more important chores. Clearly meeting another Santa tickled me more than it did her. I fully understand this dynamic.
As we neared the end of our packing, Kathleen opened the emails Delta sent her about the our flight's status. We had already extended our stay because of connection problems. Once again our flight expected a delay by two and a half hours. This meant the time of our arrival and the time of our connecting flight allowed a window of one hour in Atlanta. That's a mighty tight schedule for an international flight with a connection to home. However, with pre-clearance to the US at customs in Dublin for passengers to America, we felt more confident the circumstances may be uncomfortable but doable.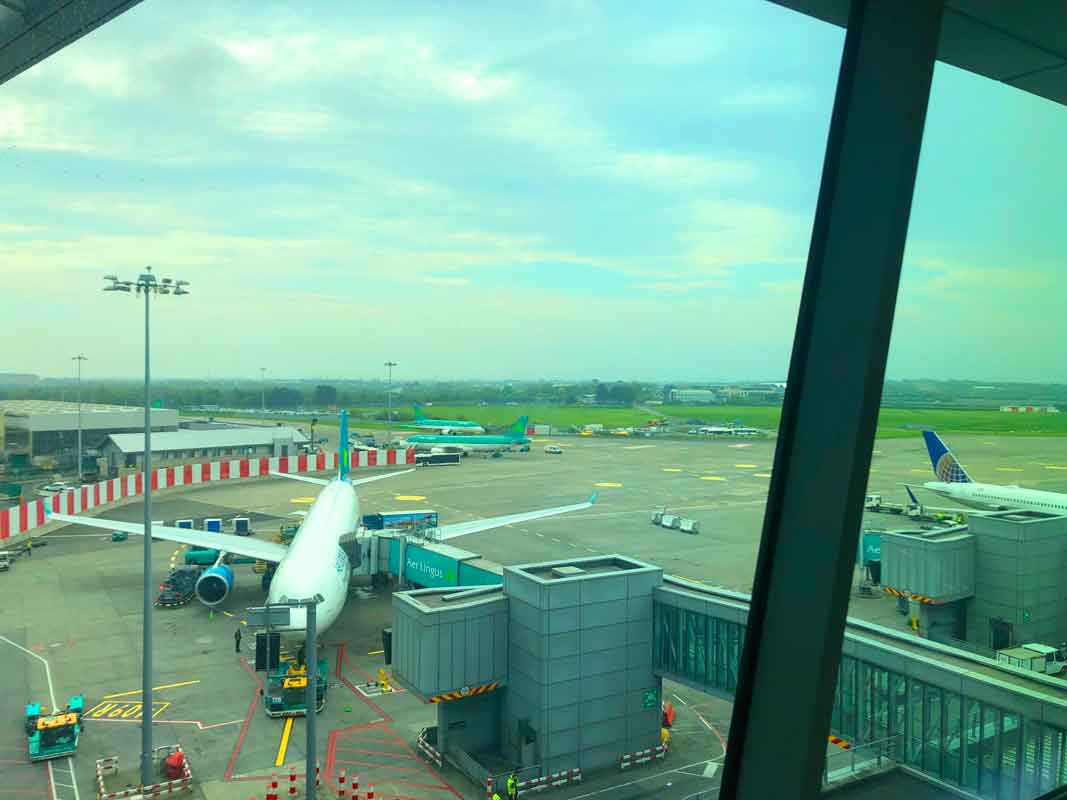 photo: Dublin Airport
We checked out of the hotel, caught our ground shuttle to the airport, and negotiated the circuitous route to the Delta Airline desk. We gathered our boarding passes and delivered the bags we wished to check. The clerk felt certain we could make our connection in Atlanta. She even engaged the manager to give us further assurances.
We walked away to find security, but didn't feel as confident as the Delta employees about our connection. If we missed the connection, we would sit in Atlanta for six to eights hours more than we wanted and that was the minimum if we could book the next flight. I can take a long layover. Kathleen simply hates wallowing around an airport. Her trepidation and anxiety exceeded mine.
We decided to visit the "toilet." "Toilet vs. Restroom" is a whole other story for later. I finished the toilet first and found a seat near the security area. I noticed Bill, Stacy and Jason walking from the security checkpoint back towards the "down" escalators leading to the airline check-in area.
I yelled, "Ho! Ho! Ho! Wrong direction, Father Christmas!"
"We forgot to get our boarding passes," hollered Bill.
"Holy cow! See y'all later. Nice meeting y'all," I said.
The trio disappeared into the bowels of the airport. I never expected to see them again.
Kathleen joined me in the sitting area. We prepared our belongings and clothing for the security review. Once situated, we joined the growing queue at security.
The security area in Dublin looked much like the TSA areas in America. Very serious officers and agents eyeballed everything and helped folks with the ins-and-outs of what was allowed and what wasn't. In many ways they seemed more cheerful and offered more smiles than their US counterparts. That could have been my imagination.
My laptop received more scrutiny than usual for some reason. We had to wait quite a while before anyone looked it over. While standing around, a very attractive young woman dressed in a security officer's uniform waved me over. I told Kathleen to watch my stuff and I walked over to her. I fully expected her to say something about my laptop. I reached the table where the officer stood. She leaned forward and broke into a big grin.
With that gorgeous smile on her lips she said, "May the Fourth Be With You!"
Nothing prepared me for that. I said, "Excuse me?"
"Your big brother said to tell you, 'May the Fourth Be With You!'" She giggled.
I was still confused for a moment. Then it dawned on me. Bill had told her to keep an eye out for me and prompted her to make the remark.
I lost my cookies. On top of that, I had forgotten that the date was indeed May 4th. I have had a tickled funny bone before, but this sensation beat most every tickle I have ever had. How special? How cool? How funny? How perfect?
Kathleen watched me return to where she waited and had a bemused look. I explained my chuckling and told her the story.
She said, "Only you, Tom Sylvest, only you."
Within a few minutes I retrieved my laptop. We passed the lovely security officer and she was still laughing telling her coworkers the story.
She waved and said, "Safe travels!"
Too bad I couldn't get a selfie with her. Had I tried to snap a photo, I may not have made it out of Ireland that day.
Kathleen and I walked the gauntlet of shops in the Duty-Free mall. I needed nothing. I wanted nothing. Cheap doesn't attract me if it isn't needed or wanted. Kathleen on the other hand is a "good deal" shopper. We still had an hour or more before our flight would be called for boarding. Obviously this gift of time allowed Kathleen to indulge her passion. I camped out with our carry-ons to click off the minutes.
Lo and behold, around the corner came Bill, Stacy and Jason.
With a huge grin, Bill asked, "Did security give you my greeting?"
"Oh yes they did," I said. "How funny? That was the best!"
I made room on my bench and Bill sat next to me. We settled into bantering about LSU and Fresno State, our occupations, our recent travels through Ireland, and even tailgating in The Grove at Ole Miss. We learned much about each other and I collected his contact information.
We also enjoyed watching people walk by us and do double-takes. Two Santas in an airport in the month of May is not a common sight. One family had a three or four-year old boy in tow. They sat a little distance away across from Bill and me. That poor little fellow couldn't make out what was going on. He stared and stared and refused all invitations we extended to him to visit us. I don't blame him. We were a strange sighting; an odd vision; an unbelievable mirage.
So Bill is my friend for life now. I hope we can stay in touch.