Me and T Story, The Beginning
by Tom Sylvest, Jr.
May 12, 2020
I wrote this story on the anniversary of E. O. Timmons' Birthdy on May 12, 2020.
Today, I remember my friend, colleague, teacher, confidant, but mostly my mentor, Edwin O'Neal Timmons, PhD. He would have been 92 years old today.
To say he played a major role in the story of my life is a huge understatement. My father, Thomas Ard Sylvest, is the only male in my life that looms larger. Early on I knew Timmons as "T." In later years he preferred "E O," but forgave me for lapsing.
This story is how I came to know Dr. Edwin O'Neal Timmons, Ph.D., Psychology
Dropping Out of LSU and Banking
I had dropped out of LSU Spring 1976. I was well short of graduating and my grades suffered because of my numerous extracurricular activities. I moved into banking and did pretty well at that. I always felt disappointed in myself for not finishing my education.
In 1978 I became the Division Manager of Ascension Savings and Loan in Lutcher, Louisiana. I had a nice career underway. These were the beginnings of turbulent times for the banking industry. By the Fall of 1980, I could see that I would need to finish my education to ensure further progress this career. Sometime in October 1980 my former roommate's dad came to my office. Ray Roberts sat down in front of my desk and shocked me.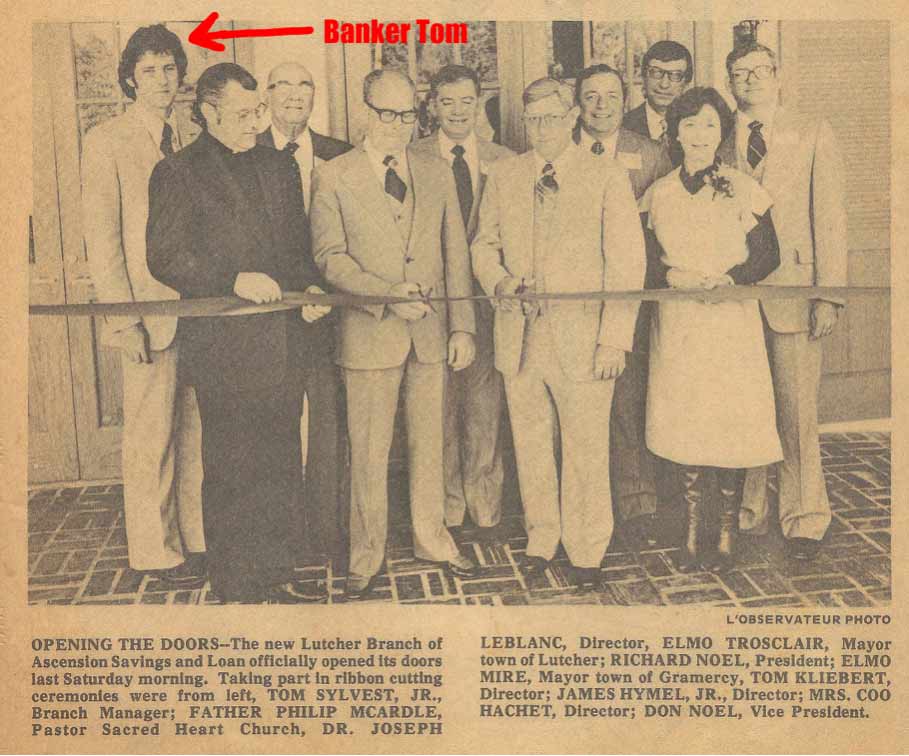 photo: Banker Tom 1978
"You're going die behind that desk and ain't no one coming to look for you," he said. "Your dad is a nice guy and he isn't going to tell you what to do. But I am. Get off your ass and go back and get your degree, you fool."
Do I have to tell you how stunned I was? Mr. Ray rattled my cage as hard and vigorously as it has ever been rattled. That man stuck it to me. He shoved a mirror in my face and had me take a good look at myself.
A couple of days passed. I investigated taking night courses and correspondence courses at LSU. I figured out how much time and cost it would take. I approached my superior (names need not be used) and proposed to him a way I could continue my job and go to school at the same time. He was not encouraging. In fact, he was discouraging. I wasn't disappointed in his response. I was raging angry with his flippant attitude.
The next day I looked at my savings, expenses, and overall resources. I figured I could make it one full year at school before I would be flat broke. I was confident that beyond that time I could get a part-time job to finish out however much time it would take me to graduate. I was motivated to face the unknown and resolved to quit.
I gave my two-week notice a few weeks before Christmas 1980. My superior came to my office a few times and begged me to reconsider. He suggested he could work out a way to help me.
I told him, "I can't trust you. You took my plan and ridiculed it mercilessly. That told me all I needed to know about your attitude towards folk who report to you. I can't work in this environment. I am out of here."
More was said, but it serves no purpose to disclose that. He begged and cajoled, tried to become my best friend, and used every argument in his book to get me not to resign. It was futile. I knew I was a valuable resource to him. I wanted to be even more valuable. He didn't want that. He faced having to look high and low to find someone like me. Sure, I'm bragging a bit, but it was also the truth. I have never regretted that decision. It made all the difference in my life.
Back to LSU in Spring 1981
I showed up at LSU with one goal: get my degree with the best grades I could get. When I dropped out in the Spring of 1976, I had completed only 90 hours of course work. My total GPA was 1.76 on a 4 point scale. I squandered my eight semesters at LSU. A waste of time and money to me. I loaded up on course work to make up lost ground, maximize the use of my resources, and finish my degree as quickly as possible. The task was daunting.
For some reason, I acquired a laser focus. I was completely invested in my adventure. I allowed nothing to distract me. Courses with which I had struggled before I faced immediately and directly. By the end of the Spring of 1981 I had completed 18 hours with a 3.5 GPA. I enrolled for 12 hours of course work in the Summer of 1981. That was a brutal four hours a day everyday for ten weeks. I had time for nothing but school. I earned a 4.0 again. My grade point average was up to 2.25.
Introduction to Psychology and Timmons
During the Summer session I took my first psychology course, The Introduction to Psychology. The instructor was a graduate assistant working on her doctorate, Debbie Hartwig. Dr. Timmons was the professor for whom she worked. Simultaneously, I became reacquainted with an old friend from my earlier days at LSU, Steve Robichaux. He was completing his Master of Business Administration around this time. He also was a graduate assistant for Dr. Timmons. Both Debbie and Steve eventually told me, "You just have to take Dr. Timmons' Psychology of Adjustment class in the Fall of 1981. It'll be right up your alley."
I was aware of Edwin O. Timmons, PhD. Timmons ranked right up there with other teaching luminaries at Louisiana State University in the 60s and 70s. He had guided the steps of many students who became outstanding psychologists and social welfare professionals. His classes were always packed with students. Some of the students in his audience were not enrolled in his classes. They just loved the course. I was always suspicious of those kinds of courses. I enrolled based on the contagious enthusiasm Debbie and Steve showed me in their encouragement.
On Tuesday, September 1, 1981 I sat on the front row in the corner of the large classroom in Lockett Hall. Dr. Timmons arrived with Debbie Hartwig. After some brief housekeeping duties and descriptions of the testing procedures, Dr. Timmons got right to work. Psychology 2004 was underway.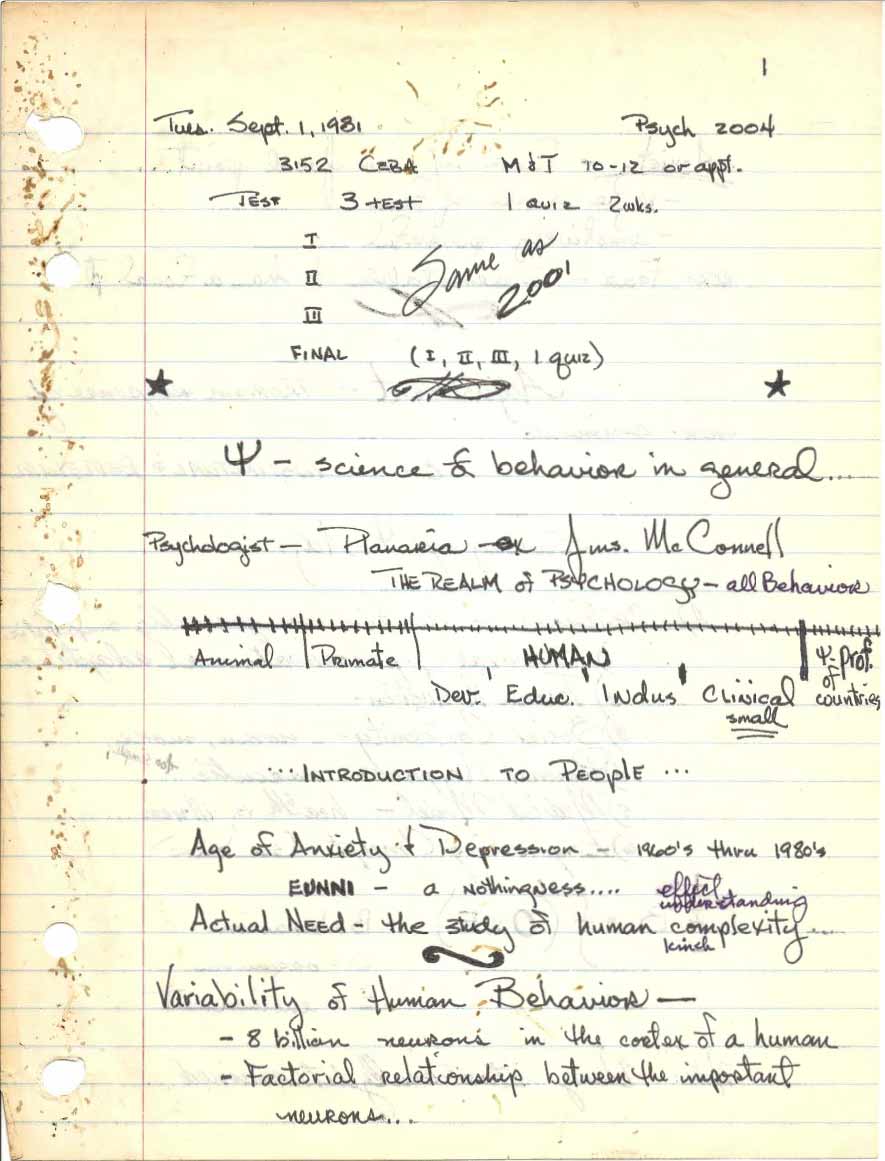 photo: First Page of Timmons' Class Notes 1981
I was rapt. His presentation style was entertaining. He told humorous stories that explained complex principles. He clearly was an experienced psychologist with many adventures. He had a thorough understanding of behavior. I had never heard behavior and, more specifically, human behavior described, dissected and analyzed as Dr. Timmons could present it. I enjoyed the course.
It was not an easy course. I expected a popular course to be a little easier. Wasn't that why everyone wanted to take it? That was not the case. There were subtle nuances throughout the course. Unless you worked hard at understanding the twists and turns, it was easy to go astray. You could get an A if you really paid attention, took detailed notes, studied very hard, and read the assigned materials. For many, they knew they could get an B or C with little effort and just enjoy the class. As difficult as the quizzes and tests were, with confusingly worded questions, I never missed an answer, not once.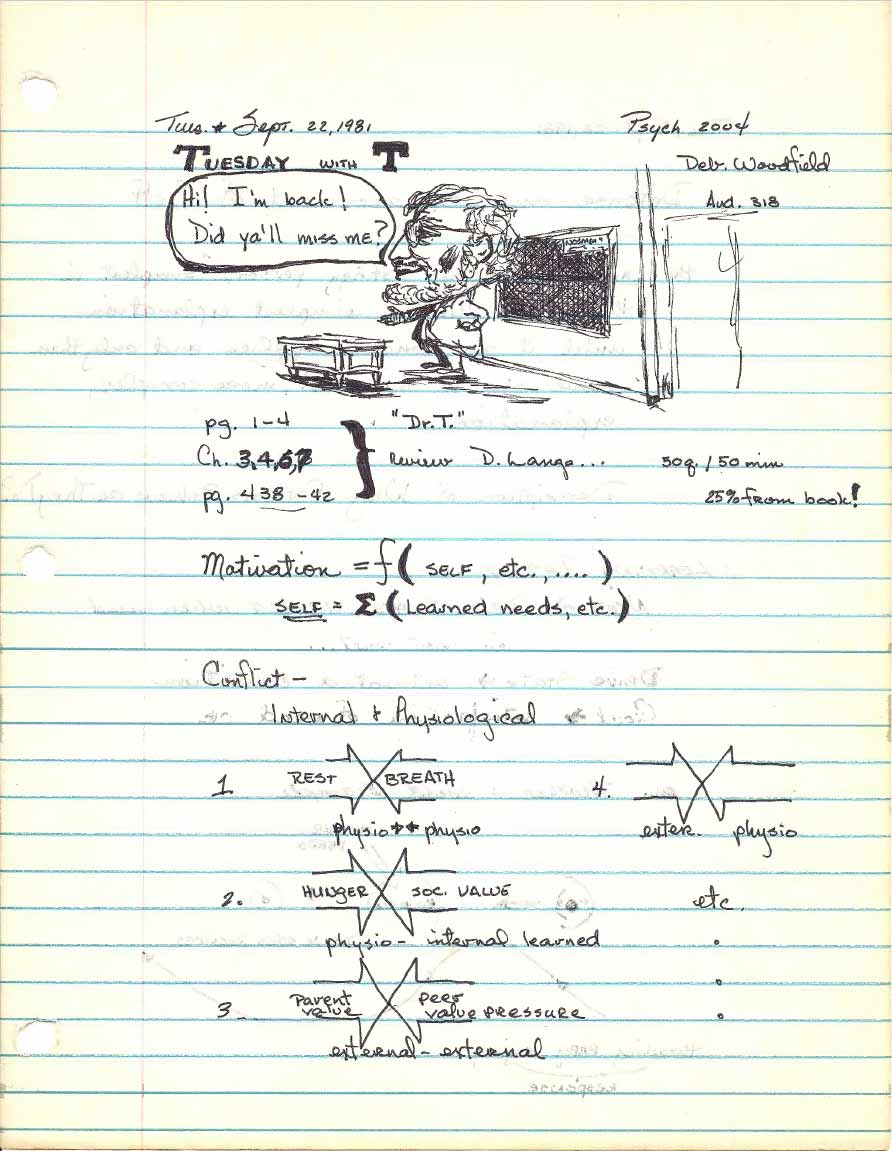 photo: My Sketch of Timmons in my notes
A Side Story About Grades
A few years later, we were moving Dr. Timmons office from CEBA to Peabody Hall. We threw away so much paper. Timmons stumbled on the computer print outs for the exams of his Psychology 2004 class. I paged through them and found the set from the semester I took his course. I found my name the first page of each of the four print outs. My full name, Thomas Ard Sylvest, Jr., appeared at top of the pages. There were three blank pages following the first before a list of the remaining names with percentage scores next to them. I showed the print outs to Timmons.
He said, "Tom, you're the Thomas Ard Sylvest, Jr.? I remember this. I thought that was a name Debbie Hartwig had made up or perhaps boyfriend or something, that she used to test the computer scoring. I never put this together with you. But that was you?"
I said, "Yes sir. I never made anything but 100 on your tests."
He laughed, "You're diabolical. No one makes 100 my tests."
I have always been proud of that.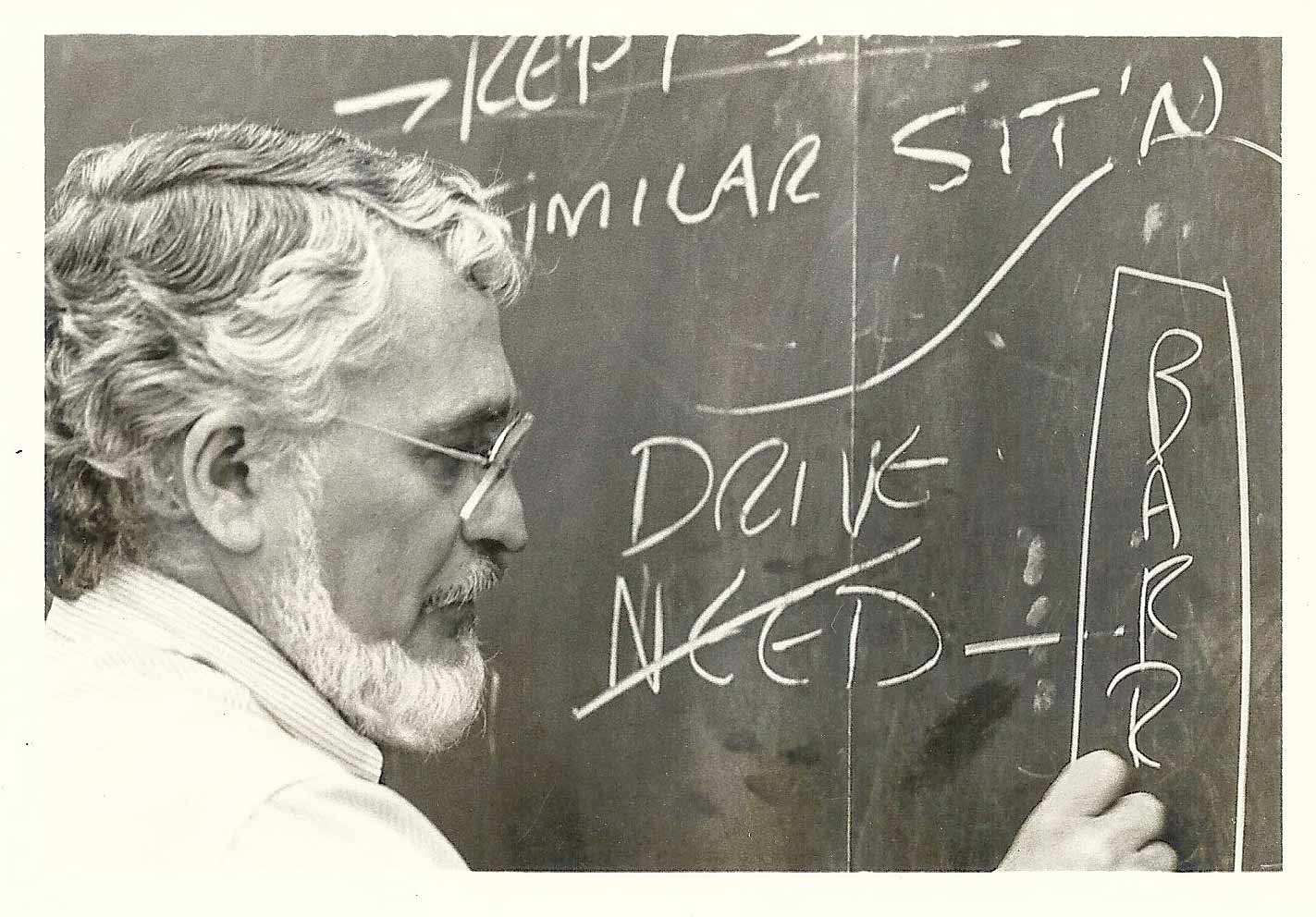 photo: Timmons at Chalkboard
End of My Quest?
By the end of the Fall semester in December 1981, I had completed 48 hours of course work. I raised my overall grade point average to 2.41. I had completed 138 hours of course work. I had done what I set out to do. I could graduate with the Fall class.
However, I wanted to find away to work for Dr. Edwin O'Neal Timmons. I had a few weeks to declare for graduation so I needed to get busy.
The Move to the Business School
Dr. Timmons had begun his move to the College of Business Administration from the College of Arts and Sciences during 1981. He had been in the Psychology Department, but would find more freedom in the business school. The dean of the business school, Donald Woodland, wanted Timmons to teach graduate school level classes as an at-large professor.
My friend, Steve Robichaux, helped Dr. Timmons make the move. But Steve was going to graduate very soon and Dr. Timmons would need a new graduate assistant. Steve and I talked about the possibilities and set in motion a plan for me to take his place.
This was not going to be easy. You must remember that my grade point average was not high enough to qualify for Graduate School. With a perfect score on the graduate admissions examination I could not get into Graduate School. I needed more course work with good grades to reach the threshold of 2.5. Then I had do extraordinarily well on the admissions test.
I still had never talked to Dr. Timmons. Steve Robichaux and Debbie Hartwig mentioned my name to him, but I didn't know what would happen, what was possible, or what his plans were. There were many variables and unknowns.
My First Visits with Dr. Timmons
One day I was loitering around outside Dr. Timmons' office and he came walking down the hall. Glory be! I was going to get to talk to him.
I introduced myself. "Hello, Dr. Timmons. I'm Steve Robichaux's friend, Tom Sylvest. Can I talk to you?"
"Nice to meet you," Dr. Timmons replied. "I can't meet with you today. I'm dropping off some work and I'm running to catch a plane. Have Steve arrange an appointment on Friday. We can visit then."
And that was that. Our first real conversation was fairly abrupt and not too encouraging. I walked away thinking to myself, "Just who do you think you are? Do you really believe this famous guy is going to give you any time, any consideration? He has spent decades fashioning doctoral students into professionals. Your grades stink. You may not get into Graduate School. Just graduate, get on with your life and leave this man alone."
On the other hand, I easily convinced myself I had nothing to lose. I was literally, "Busted flat in Baton Rouge," but I was not waiting for the train to take me away. I wasn't looking forward to going back to the real world. I could at least listen to what Dr. Timmons thought. I contacted Steve and he arranged an appointment for me. I had a couple of days to let my mind steam and percolate.
Friday came. Dr. Timmons arrived and welcomed me into his office. We talked about an hour. He was neither encouraging nor discouraging. He was straightforward and said I had a long way to go before I could work for him. I certainly agreed. He set me on a path with a few huge milestones.
The Daunting Task
First, I had to be admitted to the MBA program. Second, I had to take four advance psychology courses essential to the work he did. Third, I had to make A's in all of the psychology courses. Finally, I had to complete these tasks before the Fall of 1982. I agreed to his terms. He agreed to accept me as his new graduate student if I accomplished these goals.
I felt pretty darn good. The guy was going to give me a shot. As I looked at what I needed to do more closely, I realized how many obstacles I had. This was not as straightforward a deal as I had thought. I could never make it by Fall 1982.
These obstacles were seemingly insurmountable. To get into the MBA program, I needed accounting, economics and business law prerequisites. This totaled 15 hours of course work. The four prescribed psychology courses required two more prerequisites than I had. The total prerequisites I needed was 21 hours. Most of them were not offered in the Summer so I had to fit them into the Spring semester. The full load in the Spring semester could not be greater than 18 hours. This was a trap as far as I was concerned. I couldn't possibly get into the MBA program and complete Dr. Timmons' required courses.
I began to believe this Timmons fellow was a smooth-talking devil. I imagined he knew I couldn't accomplish the milestones and, therefore, he didn't have to deal with me once I discovered the impossibility. I explained the situation to Steve Robichaux and he said, "Holy cow, I'm sorry Tom."
Cutting the Deals
Even this didn't stop me. I decided I would attempt the MBA program, take the psychology courses, and just see what happened. I created a strategy and worked my plan. My first step was to find out who the professors were for each of the psychology courses.
The first professor was Perry Prestholdt, a social psychologist. He taught Advanced Social Psychology. The prerequisite I didn't have was the Introduction to Social Psychology. I got an appointment with him and made a proposal. I asked him to admit me to his spring class without the prerequisite. I explained my dilemma and that I needed to fast track this whole process. I couldn't afford to take the first course and then take his course given my agreement with Dr. Timmons. Advanced Social Psychology was not taught in the summer. After a little wheeling and dealing we agreed I could take his class, with one caveat. I had to drop his class if I did not pass the first exam with a perfect score. He told me the books and readings that would prepare me for his course and provided a list of books and readings he expected to use. I thanked him and I moved on to the next professor.
Irv Lane, a renowned Industrial-Organizational Psychologist, was my next target. I offered the same proposal and explanation to him. He was more reticent than Dr. Prestholdt. I explained to Lane that the prerequisite for his Industrial-Organizational class was the same as the Advance Social Psychology class. He hemmed and hawed in his inimitable New Yorker way. I recall telling him, "I had heard Dr. Prestholdt's class was really tough. I guessed that if I could get through that course, I could get through yours." Well, he didn't like that and agreed to the same terms and dared me to succeed.
I was getting good at the psychology thing and I had had only two classes.
Since I had been successful with this approach, I used it again to avoid having to take Child Psychology, a prerequisite to Educational Psychology. This agreement was very easy. I don't even recall the woman's name but she agreed to my terms and dismissed me with a reading list.
My courses for the Spring Semester 1982 felt like a list of horrible rides at a carnival: Educational Psychology, Industrial Organizational Psychology, Advanced Social Psychology, Psychology of Personality, Cost Accounting, and Business Law. I became a monk for the six weeks of the winter break. I read the text books from the prerequisite courses. I worked the exercises in those textbooks. I wrote notes based on the textbooks. I read and outlined the first chapters of the text books for the courses to come. I found the tests and exams on file at the library for the prerequisites and the future courses. I practiced taking the tests. I consumed the suggested readings that would give me a grounding in the subject matter to come. I even read the academic papers of the professors to get a sense of who they were and what they cared about. I was a study demon. I don't remember Christmas or New Years' that holiday season.
Mid-January arrived. I felt prepared, but trepidatious about what would actually happen. I knew plans were always perfect right up until the first step. Then, it could all go to Hell.
Frankly, the most interesting classes I had that semester were the ones for which I had not prepared. My readiness for the courses I worked on during the holidays turned them into boring drivel in the first few weeks. I breezed through the courses and made perfect scores on quizzes, exams, essays, and projects. A large part of the first few weeks was retreading subject matter from the prerequisites. It seemed too easy. It got more difficult, but I flew through with a 4.0 in the psychology courses.
Graduate School on Probation?
By the end of the semester, I had a 2.67 grade point average. That was enough to get into Graduate School with a decent admissions exam score. I graduated with a Bachelor's of Science in General Studies in May 1982.
In the summer I took 12 hours of undergraduate courses that qualified for the MBA program. This helped my grade point average even more. I also prepared for the admissions exam as rigorously as I did the course work during the holidays. I took the exam and did well enough to be admitted to the MBA program on probation.
Probation? Another twist to this whole agreement with Timmons raised its ugly head. One cannot be a graduate assistant if one is on probation. The obstacles kept popping up. I found this fly in the ointment after I had been admitted to the Graduate School and accepted in the MBA program. That Dr. Timmons was some slick.
Once again I decided that wasn't a problem that could not be solved. If I could cut deals with the psychology professors, I could cut deals with other folk. First, I went to the Graduate School. The decision to allow me to enter the MBA program without a probation status was in the hands of the Business School. The Graduate School didn't determine those issues.
That was fine with me. Dean Woodland was a protege of Timmons. In addition, he was a banking professor in the Department of Finance. I had been to seminars conducted by him when I was in banking. We had things in common. I knew people he knew and I was certain I could get good references from people he respected. I arranged an appointment and we had a wonderful visit.
He couldn't help me, wished me luck and directed me to Lamar B. Jones, dean of the Graduate School of Business. I knew Lamar Jones. I had had his economics course in the 1970s.
I went down the hall and attempted to make an appointment with Dr. Jones. He happened to be in, he wasn't busy, and his secretary introduced me to the dean. I really wasn't prepared. I explained my situation. I asked him to ignore my earlier ignoble time at LSU. I explained that I had earned a 3.77 GPA in the last 78 hours I completed in 3 Semesters and 2 Summers. I made a suggestion about going on probation if I didn't earn at least 3.5 my first semester.
He asked me a few questions. Then he asked out of the blue, "How do you spell your last name?"
"S-Y-L-V-E-S-T," I said.
He dropped into a slight drawl and asked, "Do you have people in Washington Parish?"
I dropped into a slight drawl, smiled, and said, "I surely do. I'm related to every Sylvest over that way."
"Well, Tom, that's good enough for me. I'm from over that way and if you're like the ones I know, I can trust you. Good people. Let's get you signed up for an assistantship with Dr. Timmons," he responded.
I told him I was just trying to deal with the probation issue and I had not talked to Dr. Timmons since December. I said, "I don't know if he still wants me."
Dr. Jones said, "Come back when you have it worked out. If necessary, we'll find you a job around here."
Mission Accomplished
I left the CEBA building as high as a kite. I accomplished every stinking objective Dr. Timmons gave me. I was over the moon. I needed to get to him.
I caught him on the phone at his office. He asked if I could come to his house and bring my grade slips, Graduate School application, and the results of the admissions exam. We eventually met in his home office, a room I would come to know well in the coming decades. We drank a few scotches and talked for hours.
The deal was sealed. The rest is history.
This was August 1982. We had right at twenty years together. He's been gone for almost twenty years. The stuff I learned, the folks I met, the sights I saw, the wife I married I lay at this man's feet.
My mentor still guides me.