Wednesday, July 5, 2023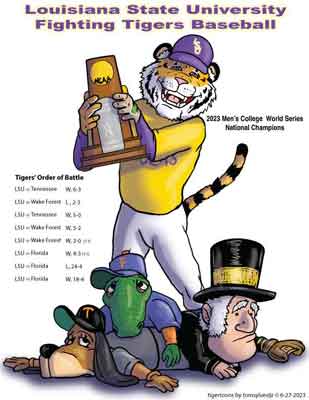 Looking Forward to Football Season
The College World Series and the Fourth of July are in the rear view mirror. In the past, this would have been the time for my wife's family to settle in for the week on Pensacola Beach to enjoy the Blue Angels' demonstration extravaganza.
My in-laws passing away in recent years, the Covid cow dung, and the loss of some of my best, old buddies like Mayor Bob, Howard Martin, and Jim "Big Willie" Williamson (and many others) changed my perspective on this special week. I will miss so many folks from the beach once again this year. I'll be back on the beach to connect with my beach buddies when the crowds, traffic and heat are gone.
I'll sweat it out with the rest of you and pass my time enjoying our LSU baseball players in the MLB. I have many projects to which to attend in my studio. And of course, football will begin getting my attention. Especially, college football.
TigerToons' Mascot Schedules
A new batch of mascot schedules are ready for you to enjoy and share.
The Tigertoons' LSU Mascot Schedule appeared on tigertoons.org 2001. It evolved and found the format with which many of you have become familiar.
When the Texas A&M Aggies and Missouri Tigers joined the Southeastern Conference in 2012, the first set of TigerToons' SEC Mascot Football Schedules debuted. In 2018 a fan of TigerToons suggested I do schedules for our Louisiana colleges. I wondered why that had not occurred to me. Since that time, between the SEC and Louisiana schools, I have created twenty-four schedules each summer.
These schedules require a lot of time as you can imagine. Collecting the schedules from the internet and typing in all of the information represents the least pleasurable part of this work. There's not much creativity in that and there are tons of headaches. It is easy to misspell a school name or location of the games. I often make mistakes like the date of the games or the conference designations. Sometimes I'll stare at the wrong information and won't see the mistakes. This is annoying and frustrating, but that is the nature of the process.
While some parts of the process are aggravating and tedious, I have fun learning about the schools, their mascots and their traditions. Through the years, I have watched the changes in schools and conferences. Now and then conferences acquire and lose members. Sometimes schools change their mascots.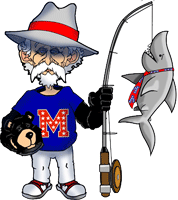 For instance, Ole Miss has changed the mascot to represent their Rebel twice since I have been doing these schedules. They have their reasons. I have my opinions. Few will know either.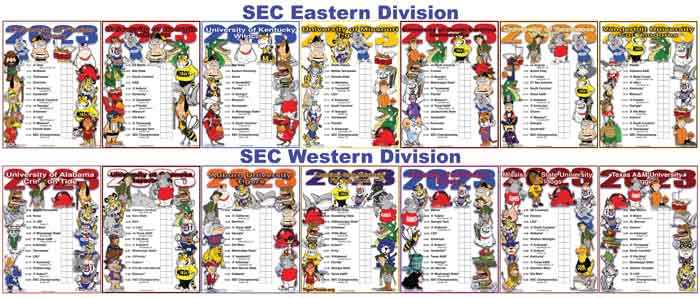 SEC Mascot Schedules
The Southeastern Conference will make notable changes in 2024. This will be the last year of the SEC's East and West Division system. When Oklahoma and Texas join the league a new scheduling scheme will be installed. Adding the Sooners' and Longhorns' schedules and a wider variety of mascots will be interesting.
I have accumulated a substantial archives of mascots through the years. Each year I try to draw a new SEC mascot for each team LSU will play. I attempt to depict something about a team's current story. Perhaps a team's coach is expected to be on the hot seat, wears goofy headwear, or gets in a motorcycle wreck with not-his-wife. Maybe an opponent's QB has had a run-in with law enforcement in the off season or the running back has trashed a beach house during the summer. Of course,the NCAA could be investigating a program or a booster tried to distribute counterfeit money for his favorite players. Lots of stuff happens on and off the field. Drawing a representative mascot depicting a controversary makes things interesting for me.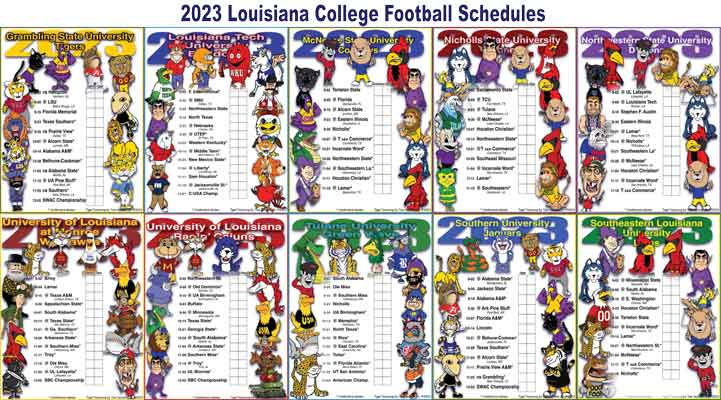 Louisiana College Schedules
I have drawn the opponent mascots our Louisiana schools will play. That initially was a big chore because I had to draw so many mascots from scratch in one season. After six years I have a decent collection of mascots from conferences including the American, Southland, Sun Belt, SWAC, and C-USA. I also have drawn some very obscure mascots from schools of which I had never heard. This year I had to draw more new mascots than usual. Our Louisiana schools have scheduled teams from the West Coast, throughout the South, into North woods, smack dab in the middle of the country, and ranging up the East Coast. Here is a few of this year's new creations.
| | | | |
| --- | --- | --- | --- |
| Nebraska | Hampton | Fla. Memorial | Tarleton |
| Sacramento | Lincoln | Minnesota | Buffalo |
Pulling these schedules together and sharing them with you has been a source of joy for me all these years. I am grateful for your appreciation, affirmation and encouragement. This keeps me busy in the early days of every summer. You, the fans, keep me occupied.
Please share the links with your football friends and family who are interested in any to the SEC and Louisiana Schools.