HOW WE INTERACT WITH ONE ANOTHER-
DATA-INFERENCE-PROPHECY

Few days go by that we don't rub up against other people. As they approach us or as we come towards them, we consciously and unconsciously ask ourselves the following questions.

Will they satisfy our learned needs or not? Will they supply or deny us the resources that will help us reach our goals? Will they act as barriers to our objectives or will they remove the obstacles in our paths? Will they threaten our zig zags or will they help us feel like the unique somebodies we've got to feel like? Will they threaten our senses of self or help us preserve the persons we need to be? Should we ready our arsenals of defense mechanisms or prepare our coping behaviors to bring them to us? Which onion skins will we have to put into play to protect or enhance our selfs? What will they do and say and how will they do it and say it and how will their behaviors impact my well-being?

It is impossible to avoid, ignore, or escape these questions. I will repeat, it is impossible to avoid, ignore, or escape these questions. In some form, these questions are asked by us all. In all situations, we are anxious for the answers. If we had the answers to these questions in each and every situation, we could choose appropriate behaviors and be the most effective human beings we could possibly be. The answers to these questions would make our interactions with others predictable. If we had this predictability, we could reduce our angst.

As impossible as it is for us to avoid, ignore, or escape these questions, it is just as impossible for us to know the answers. What can we know about anyone else? Not much. We cannot know their zig zags, learned needs, self, or the somebodies they have got to feel like. We cannot know why they do what they do. We cannot know their motives, the reasons they behave in certain ways, or what they will do next (to us). We cannot know their purpose, what they mean, and what they are up to.

To be effective in our dealings with others, we need to know these things. We need to know their motives, purposes, meanings, truths, and reasons for what they do. We need to know what they are likely to do next. But we can't.

All we can really know about others is their behaviors: what they say and do; and how they say and do it. We can know nothing more. Generally, this is not enough for us. Just knowing what their behaviors are is not nearly as useful as knowing the reasons for their behaviors. How can we find out what we cannot know. How do we make sense of what is going on.

We forever stand on the edge of a great chasm between what we really know about others and what we need to know about others. This chasm is very wide. This chasm is very deep. To interact with others, we need to cross it.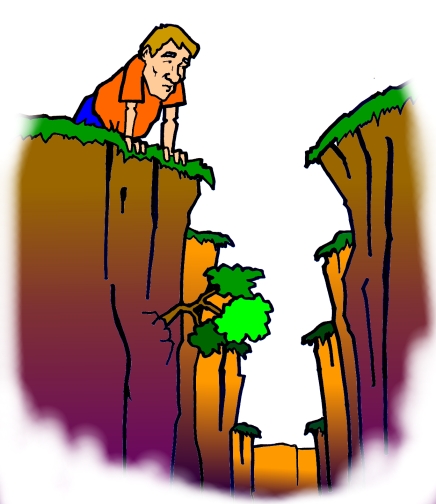 To get to the other side and try to know what we can't, we must infer. We leap the chasm with inferences about what people do and say and how they do and say it. We have no choice but to infer. Our inferences provide us the answers to the questions we cannot avoid, ignore, or escape. They offer us the predictability we so desperately need when we interact with others. And like our questions these inferences are impossible to avoid, ignore, or escape.

Of all the principles of human behavior I have learned, this principle is the most powerful I have come upon. It permeates everything we do and say. It is how we operate with others. It is how we make sense of the world in us and around us. It applies to all people regardless of culture, upbringing, education, economic conditions, and geographic locations. It is a source of pain and joy in all of our lives. If by some magic I were allowed to give people one thing that would help them live in peace and harmony, this is the principle and process I would want them to understand and use.

Here we'll look at the process, examine each component and its features. We'll also explore some common examples of the principle at work and identify the problems and opportunities the process offers us.

The process of Data-Inference-Prophecy (DIP) is really rather simple. We gather data, make inferences about the data, and based on those inferences, come up with a prophecy about what will happen next. These are the three levels all of us use to make sense of the world and communicate with one another.

Earlier I stated, "All we can know about another person is what he says and does and how he says and does it and nothing more." This is the data with which we make our inferences.

A number of features define the nature of data:
Data are generally easy to gather. We use our senses to pick up the data that is out there in the world. We are always gathering data. In fact, it is almost impossible for us not to gather them. The primary reason data is so easy to gather is because we need data in order to survive. If data were difficult to gather, our lives would be in constant peril. Consider a person who is blind or deaf; he or she needs some sort of assistance in gathering the data that are necessary for existence. The assistance they receive may come from others or a heightened capacity of their other senses.
Data are the facts of a situation. The facts are the things that are done, the actions that actual take place. We can describe facts very accurately with a high degree of precision.
Data are what is said and done and how it is said and done. In terms of human interactions, the most important facts we gather are the behaviors of ourselves and other persons. The behaviors are either nonverbal, physical body movements or verbal communicative performances.
Data are either / or in nature; either someone did something or said something or she did not. The data we have gathered either happened or they didn't happen. We have no question about the occurance or nonoccurance of data.
Data are generally agreed upon when witnessed by others. On the data level, when two or more people with an equal capacity to gather data see or hear something happen, they can always agree on what happened. They may not agree to the meaning of what happened and they may interpret the data they received differently, but the essential facts of the situation will be the same for all of them. If you and I see 20 people in a room with their hands raised, we will easily agree that we see 20 people with their hands raised. If we asked an Aaskan eskimo, an Indian guru, and a Chinese general to look upon the same scene, they will agree with us that 20 people have their hands raised.
Data are quantifiable and measurable; you can count them and compare them to some ruler. In the above example, we can count the number of people in the room. If we have a predetermined amount in mind for this particular group which defines a quorum, we are able to calculate and measure how close or how far the number we see is from the quorum number. We can also quantify and measure just how high the people have their hands raised. We may use their shoulders as a reference point and measure in inches or meters the distance from their index fingers to their shoulders.
Data are meaningless; they simply are until we put meaning to them. Data by themselves do not tell us the reasons they exist. Until we place the data in some context and relationship, they have no meaning.
Data are all we can ever know about other people. Here, 'know' means to have 100 per cent certainty of what has happened and to be able to describe it with unambiguous terms.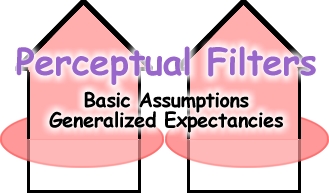 Perceptual Filters

After we have gathered them, the data pass through our perceptual filters. These perceptual filters are our basic assumptions and generalized expectancies we acquired from our experiences. If you grew up in a nuturing, helping, and caring environment and were taught that people were basically good, you may have developed rose-colored filters. These filters would color the data you gather. You would tend to see something someone does and says as being positive. On the other hand, you may have grown up in an environment that taught you to be wary of people, that things are no good, that you can't be too careful, that you had better not trust anyone, or that people are "out to get you." Your filters would tend to color the data you gather negatively. Perceptual filters are the reason that when two of us witness the same data and agree on what happened, we may not agree on what that data mean.




Once we have gathered the data and they have passed through our filers, we have no choice, but to make sense out of the data. In effect, we ask ourselves, "What do the data mean?" We answer this question with inferences.

Inferences are very different from data. They are only guesses, maybe educated guesses, but still guesses about the data and their meaning. Here are the features that distinguish inferences from data.
Inferences are not facts. Inferences are our attempts to explain the whys of the data we witness. An inference is not actual. It is the result of our thinking about the data.
Inferences are not either / or in nature; they are merely judgements or evaluations about data. We often try to impose either/or thinking on the inference level. Either Notre Dame was the greatest team in the nation or it was not. Either Ronald Reagan was the best president of the United States or he was not. Either Elizabeth Taylor is the prettiest woman who ever lived or she is not. Either /or thinking on the inference level is ineffective. The number of possible inferences that may be drawn from one set of data are too numerous to use either/or logic.
Inferences are our attempts to attribute meaning to the data. Because data have no meaning and we all have an average need for predictability, we must give the data we see and hear a definition. Without making some sense of what is happening, has happened, or might happen next, we would not have a point of reference to determine the threats to our sense of self.
Inferences are our individual answers to the questions about another person's truths, motives, feelings, emotions, purposes, and reasons for what they do and say. Again, because we require some predictability, we strongly need a point of reference. Therefore, we read motives into the actions and communications we see and hear.
Inferences are not quantifiable or measurable; they are subjective. We cannot quantify or measure motives, reasons, purposes, or truths. We can use data to define these things, but our definitions are still arbitrary. If we can agree that 20 is a very large number, we can say there is a large number of people in the room. But remember that "20 is a very large number" is an inference itself.
Inferences are unavoidable; we have to make them to make sense of the world and people in it. Once again, the reason we form inferences is to lessen our anxiety and provide ourselves with predictability. If we did not form inferences, we could place ourselves in great danger. Inferences are part of our survival system.


Prophecy Level

All of us need some degree of predictability. So, after we have gathered the data and made some guesses or inferences about the data, we predict what will happen next. We make prophecies about others to help up deal with them.
Prophecies are our predictions about what someone will do next.
Prophecies are our attempts to decide what we should do next
Prophecies are helpful in reducing our anxiety about a given set of circumstances by giving us some degree of predictability.

Here's the DIP Graphic for easy reference: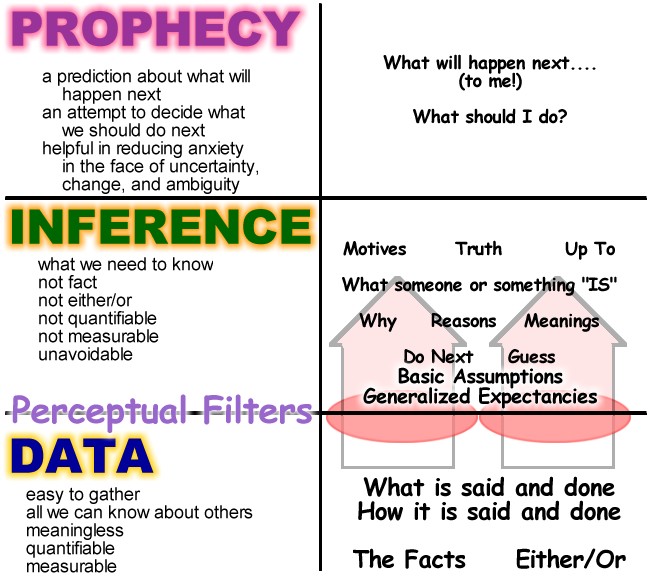 Next Page: How We Operate-Part 2 Data-Inference-Prophecy Continued