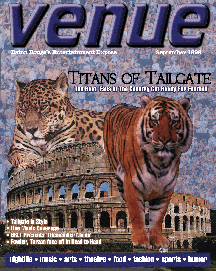 Article about Tailgating in Venue Magazine, September 1999 edition, a Baton Rouge Entertainment Magazine
Tom Sylvest: the painter from Tigerland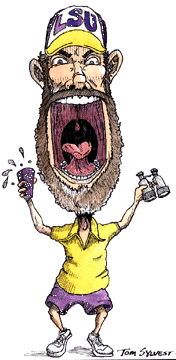 self-portrait
By Adonica Pelichet
His etchings include the mighty of Tiger land and the opponents destined for defeat. Each week, lifelong fan Tom Sylvest, Jr draws pictures of what will become of those who dare cross the mighty Tigers.
Sylvest received his MBA from LSU in 1984, but his life as a tailgater began long before that. His father and grandfather both graduated from LSU.
His cartoons began as decorations for his wife's family's motorhome. Each week, Sylvest drew and hung his cartoons on and around the motorhome.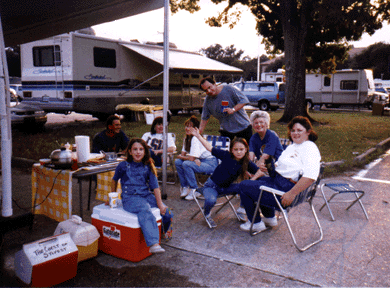 Family at Tailgate
People would walk by and hang around and talk. They had some food and a drink, while marveling over Sylvest's drawings.
In the first season it was up, Sylvest's website got 300,000 hits. The site contains his rendition of the schedule, weekly drawings and animations.
One of Sylvest's most popular images is the "Fan's Prayer."
The kids who sit around us say, "Mr. Tom say the prayer, say the prayer."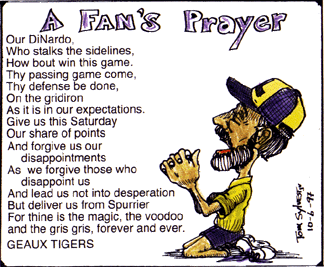 The Prayer
Sylvest does not sell his work due to the licensing regulations. He only gives his pieces away, but he does do commissioned work for people who would like something special.
Each year, he and his crew go to at least two away games.
"It's like a big family. You see people three or four times a year and that's the only time you ever see them," Sylvest said.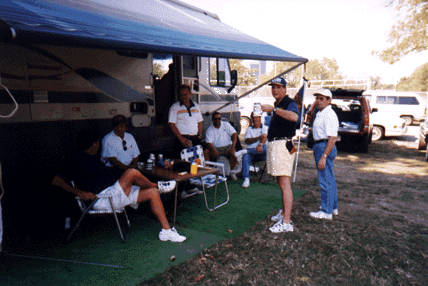 Vanderbilt Game Tailgate
In 1972 Sylvest was kicked out of a rather memorable game for taunting opponents with a sign which told them where to go upon departing this world. He got into a tussle with a male cheerleader and was escorted out of the game. He returned after purchasing tickets which left him sitting in the opponent's student section. He was just in time to catch a Bert Jones pass to win the game.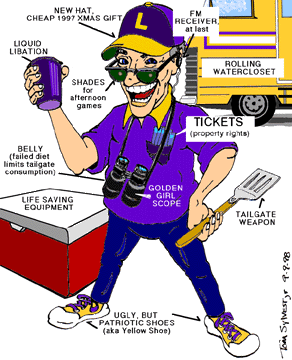 The Anatomy of Tailgating
Sylvest also cites the time it snowed in Arkansas as one of his most memorable tailgates.
"We were having jambalaya in the snow," he said.
Sylvest has also fashioned coloring books for the kids at the tailgate party. "It keeps the kids inside in the air conditioning and out of the adults' hair," he explained.
Sylvest combines his two loves (after his wife) LSU and art, and has created a spirited website and large following.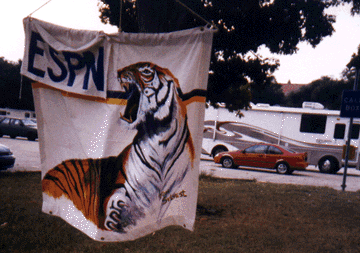 Tailgate Banner to Find Tom
© Copyright 1999 MediaSouth, Inc. All Rights reserved. See Legal Use of this site.