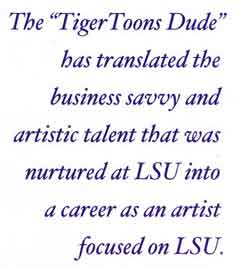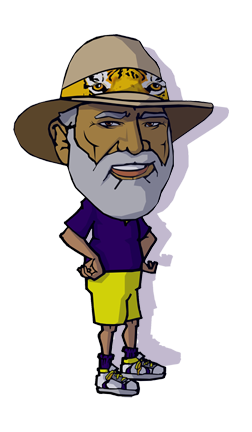 For well over a hundred years, LSU has been graduating people who go on to distinguish themselves in a diverse array of fields, from business to writing, from education to science and so on. These graduates make the university proud and increasingly over the years, these graduates make their pride for LSU well-known. One particular alumnus, who still resides in Baton Rouge, is a prime example of this double dose of pride. Tom Sylvest, Jr., aka the "TigerToons Dude," has translated the business savvy and artistic talent that was nurtured at LSU into a career as an artist focused on LSU.

Like many LSU students today, the University was a part of Tom's life before he enrolled in 1972. His maternal grandfather, John Sobert, graduated from LSU in 1923 and his father, Tom Sylvest, Sr., graduated from LSU in 1949. His mother, Eloise Sobert Sylvest, worked as a Home Demonstration Agent for the Extension Service at LSU. Tom explains, "Having grown up with LSU in my family, it never really occurred to me to attend any other school."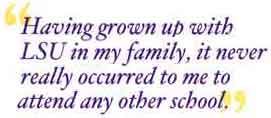 Tom enrolled at LSU in 1972 as a biochemistry major, but quickly discovered that laboratory work was not for him. Tom was interested in a variety of subjects and wanted to continue to explore these interests. He decided to pursue a general studies degree which allowed him to engage in an assortment of subjects and also complete his B.S.
Tom was very active with the University during his undergraduate years. Tom was active with the LSU Student Government Association from his sophomore year and held posts that include Press Secretary and University College President. He was an artist for the Gumbo, the LSU yearbook, and a cartoonist and contributing columnist for the campus newspaper, The Reveille. After taking a short break from school in the late seventies, Tom returned to LSU to complete his general studies degree in 1982 and subsequently completed an M.B.A. at LSU in 1984.
One of Tom's fondest memories and most valued experiences at LSU was his opportunity to work with Professor Edwin O. Timmons. Timmons was a psychology professor who moved into the College of Business just as Tom was enrolling in the MBA program. Dr. Timmons left LSU to focus on his consulting business, but Tom maintained a personal and professional relationship with him. After graduation, Tom worked with Dr. Timmons on occasion.

To this day, Tom credits Dr. Timmons with shaping Tom into the businessman he is today. "I especially value the knowledge and wisdom I acquired from my professor, mentor and great friend, Dr. Timmons. The principles of human behavior he gave to me have allowed me to work and play with so many diverse people. He gave me a toolbox of concepts to help me explore what others may be up to, what I may be up to, and how I may be more effective in dealing with them. I wish that rare and special student-teacher relationship upon everyone."

Tom spent two decades in the business arena. As a strategic planning facilitator and organizational consultant, his clients included banks, insurance companies, schools, non-profit organizations and law firms. But since 2001, Tom has devoted all of his attention to TigerToons and his other artwork. "My work is very labor intensive, requires my full attention and isn't really something I can out source," he explains. While he does plan to return to consulting work, he will be focusing in the short term on developing the TigerToons business.

Though Tom has drawn all of his life, the seed for TigerToons was sowed back in the late eighties. "I drew a cartoon [for a Christmas card] about LSU playing South Carolina in the 1987 Gator Bowl and sent it to a few family and friends. I was living and working in Washington, D.C. at the time and was very home sick. When I returned to Louisiana in 1988 and got married, my wife and I began the tradition of sending Christmas cards of my LSU football cartoons to more and more of our friends and family."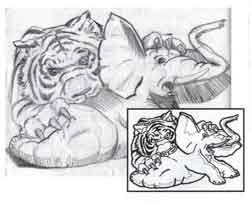 Eventually Tom created poster sized cartoons for tailgating and began an email listserv distributing his cartoons each week. "In the Spring of 1997, my brother, Paul, and I discussed the possibilities of using the internet to showcase my cartoons and artwork. With his guidance, I devoted four months to learning about the internet, web sites, html and java code, how to animate graphics and other associated topics. By August of that year and just in time for football season, I launched my web site and came up with the name TigerToons."

TigerToons was not initially conceived of as a business venture. "It was a way for me to share my artwork and love of LSU with LSU fans and friends. I have never charged for the cartoons I post on the web site or email to others." Pretty soon after the launch of the web site, Tom began getting more and more requests for custom artwork, for paintings, t-shirt designs, signs and logos for businesses and caricatures.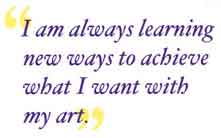 "While I will continue to share my cartoons free of charge for marketing purposes, I plan to use what I have on hand to offer products for sale over the internet. By the summer 2007, TigerToons Store will provide selected designs on a variety of products such as posters, calendars, hats, steins, and t shirts."
TigerToons focus primarily on the LSU football season. Tom draws cartoons about other sports occasionally, but the spacing between games and the rabid audience makes football the prime target for TigerToons development. In addition to TigerToons and custom created LSU artwork, Tom has also recently illustrated two children's books by Jady Regard, Born to be a Tiger and Born to be a Tiger, Too. "This was a great opportunity for me to display my work through a different product to a wider market. Jady had a very compelling idea and offered me the chance to do something quite different."
Tom works in a variety of mediums, for both his TigerToons art and his fine art. He uses watercolors, acrylics, oil, pencil and charcoal, pastels, pen and ink, paper mache and polymer clay. "Most of the TigerToons I do are a mix of mediums that I convert to computer graphics, both bit map and vector formats. I've developed my own process to create graphics that are flexible and applicable to many uses. I am always learning new ways to achieve what I want with my art. It has been challenging and fun."

For more information about Tom, his work and how to obtain your own TigerToons memorabilia visit his web site at www.tigertoons.org.